The official Opening Day of Baseball Card Season was Wednesday, January 30, 2019.
I would have been out there with the rest of the collecting world. Celebrating. Opening packs. Watching videos of box breaks. Reading Twitter feeds (you can follow me
@bdj610
) to see the first cards they opened from a pack. Catching the Bay to see what master sets were initially going for.
But I live in the Chicago area. And...the temperatures here reached -27 below Fahrenheit at one point. I wasn't going to go out. Heck, if the Chicago Public Schools decided to close for the day, you know it's trouble. In fact, it was so cold, and I'm sure you saw video of this, but they set the train tracks on fire.
Courtesy of WGN-TV.
The reason behind this is, according to
news.com.au
, "Snow and ice can clog the points used to keep the train rolling, so the gas-fuelled flames — which technically run alongside the tracks — keep the switch points warm so they don't get clogged. It's actually not uncommon for Metra to resort to the practice when the mercury drops below zero."
Okay, back to the point.
On Friday, February 2, after making the trek to work and logging in some hours at the office, I made my way to a card shop, Target, and Walmart (in that order) and bought a few packs from each location (okay, the Walmart didn't have them yet, but I had to check). So now, I was in the game. After dinner, I opened my first pack.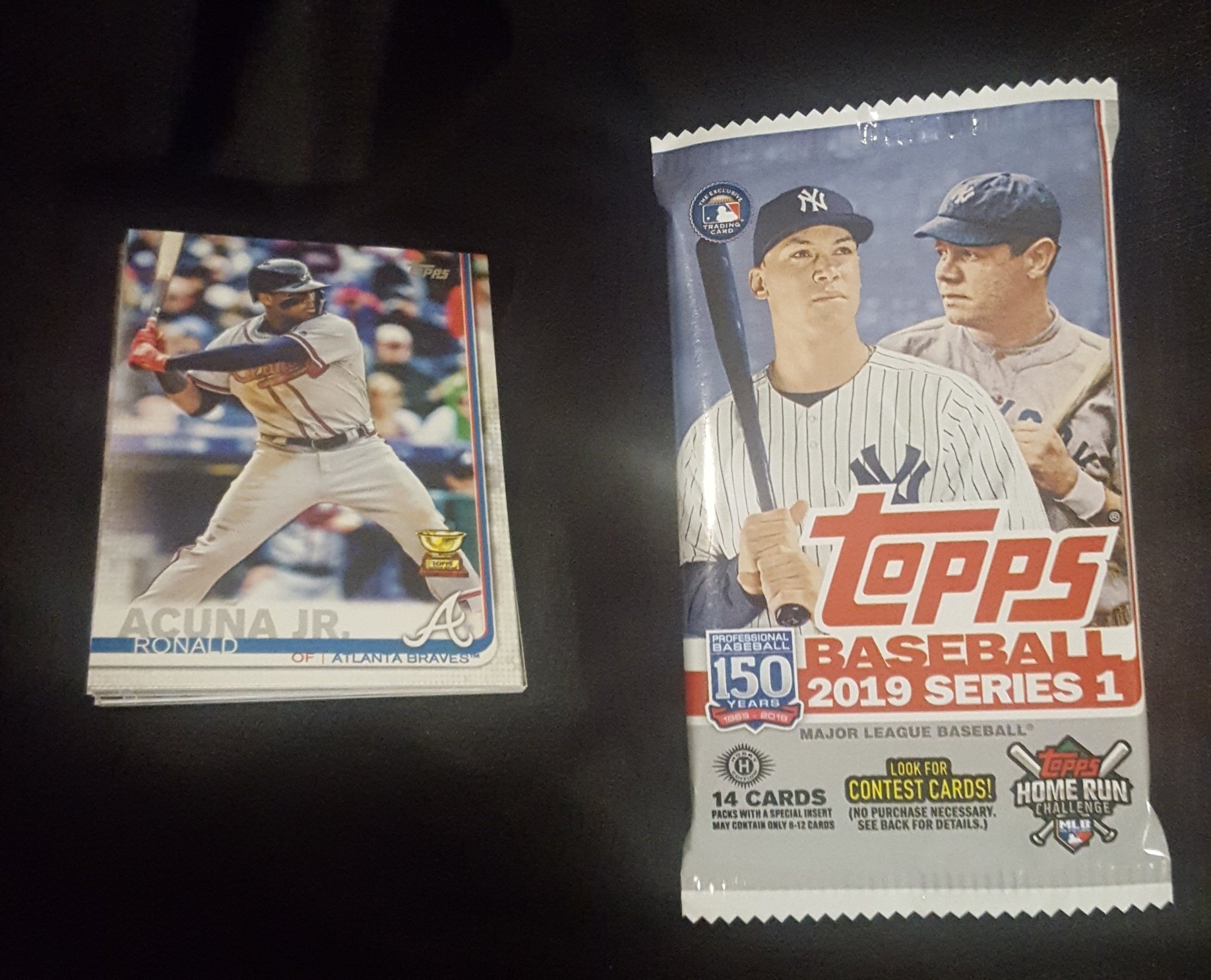 And what a way to begin 2019!!! My first card of 2019 is CARD #1 of the eponymous set, Ronald Acuña, Jr!!!
The 2018 National League Rookie of the Year, and winner of the Card #1 vote, is my first card for 2019. What else showed up in this 14-card pack?
#9 Ben Zobrist, 2B/OF, Cubs
#111 Reynaldo Lopez, P, White Sox
#237 Seth Lugo, P, Mets
#263 Always Sonny, Checklist 109-144
#317 Kevin Gausman, P, Braves
#65 Derek Dietrich Gold, OF/1B, Marlins
#294 Dynamic Duo, Checklist #73-108
#158 Byron Buxton, OF, Twins
#44 Jay Bruce, OF, Mets
#45 Nick Pivetta, P, Phillies
#207 Richard Bleier, P, Orioles
#234 Austin Hedges, C, Padres
#153, Hunter Strickland, P, Giants
Initial thoughts on this pack:
My second Cubs card is World Series hero Ben Zobrist. This makes this pack a winner. Third is a pitcher from that other team from Chicago, so that works out very well.
I am so happy that Topps listened to their customers as the card backs (very nice by the way) include COMPLETE YEAR STATISTICS!!! After two years of partial stats (nothing wrong with that...it's not as if it was a precedent and all...but still), we get complete MLB (and MiLB if it applies) statistics again. And for those who still wanted them, the Twitter and Instagram accounts for players who have them (Jay Bruce apparently has neither, so he gets a #TOPPSBASEBALL on his social media profile line).
Within the last two weeks, I have purchased five regular, two jumbo packs, & one hanger box, from Target, three regular packs from WalMart, and twelve Hobby packs. I have a lot of good insert cards (which I am willing to trade), a couple of Home Run Challenge cards, and one SP (Mookie Betts).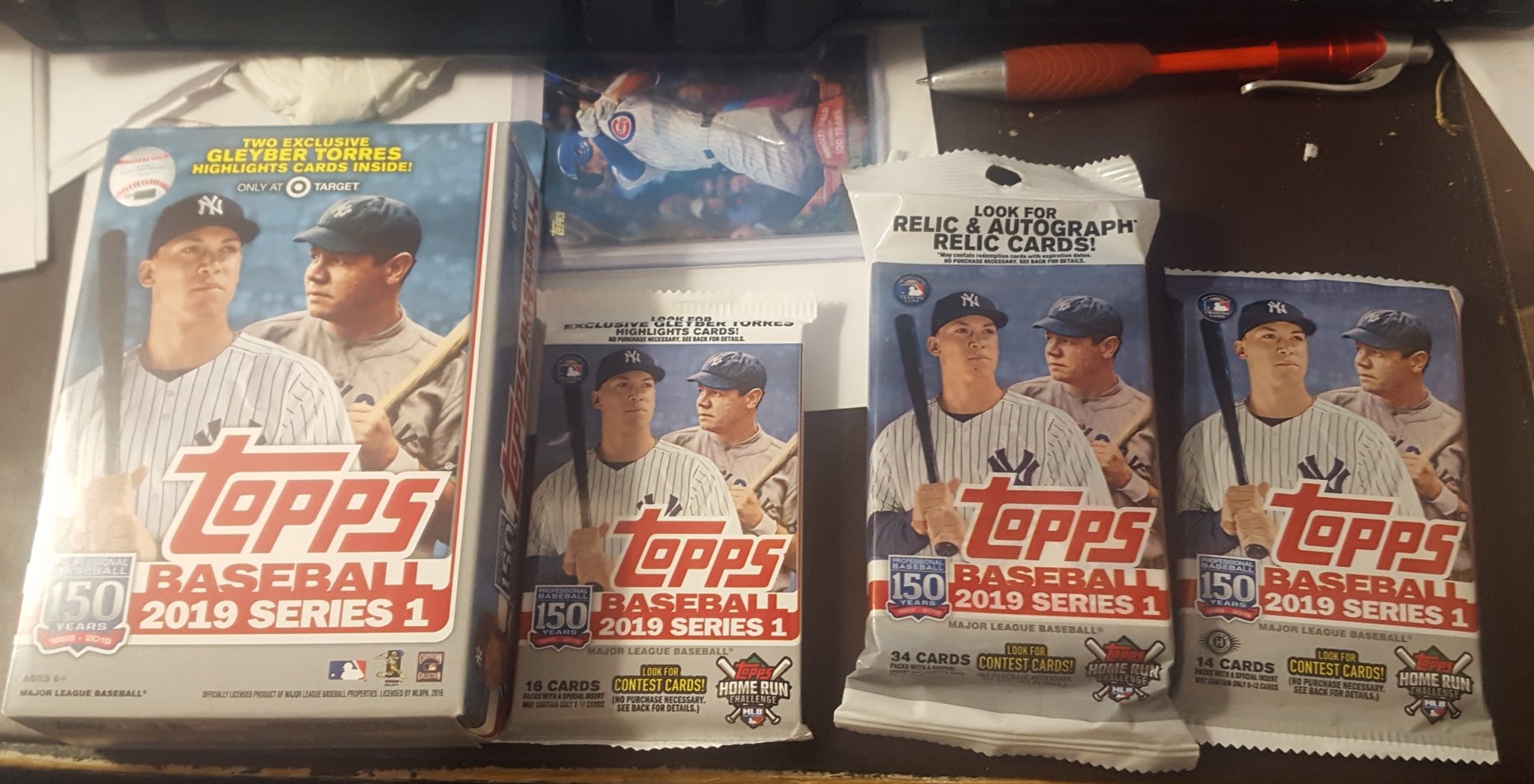 I also decided to take a different approach when it comes to acquiring a master set this year.
There are 12 insert sets with cards scattered in packs of 2019 Topps Series 1. Adding the 350 base set, there are 940 cards that comprise what I will consider a full master set.
On eBay, prices for auctions of master sets consisting of just the base plus seven Hobby insert sets (1984 Topps 35th Anniversary, Greatness Returns, Evolution, Revolution, Topps Now Top 10, Iconic Reprints, 150 Years) ranged from $499.99 to $1099.99 Buy It Now. The scary thing is that people were actually paying those prices. I get that regular Hobby and Jumbo boxes have less packs even if the number of cards per pack are up (you still get less cards overall). I get that the odds for insert cards are ridiculous. I also get that case breakers are having a hard time making full master sets. But this is overkill.
Now, if you have the money and bought a 770 card set for over $1000, more power to you. Cheers.
But you're still missing five retail-exclusive master sets!!!
There was one auction that I saw that had 10 insert sets included (the seven Hobby sets plus the 2 Spring Training sets and the 100-card Superstars) for $1499, and SOMEBODY BOUGHT THAT!!!
That's well and good, but that auction doesn't have the Ronald Acuña and Gleyber Torres Highlight sets. Yes, the Walmart (Acuña) and Target (Torres) exclusives.
Of course, I'm going after all 12 sets, and as of this writing, I now have the 350-card set, plus the following complete insert sets:
1984 35th Anniversary set
Greatness Returns
Evolution
Revolution
Topps Now Top 10
Gleyber Torres Highlights
Cactus League Legends
Grapefruit League Greats
Plus I am waiting on these two sets:
Superstars of Baseball
Ronald Acuña Highlights
With shipping, I have spent a grand total of $622.11. I am pretty sure if I wait it out a bit, I can acquire all 12 for under $900. The 150-card 150 Years of Professional Baseball set has been going anywhere from $350-500 BIN (with auctions currently at over $150.00) and the 50-card Iconic Reprints set goes for $125-$220. I might have to wait a bit for demand to die down because many collectors will be focusing their energies and money on Heritage.
The prices on the Iconic Reprint set and for individual cards are, honestly, ridiculous. I mean, a number of these cards have been reprinted to death, and the last time Topps highlighted reprint cards of Babe Ruth, Ty Cobb, et.al, was in 2011. Regardless, I think I will play the patience route. Maybe wait until the Spring Collectibles show at the convention center down the street to build the sets.
In the meantime, there are two sets that are on my collecting radar. The 2019 Gypsy Queen, and, as tentative checklists were posted this past week, the 32 Topps Team Sets.
This is already getting to be a very interesting, if not expensive, year Hobby-wise.
But I am always up for the challenge.
Sincerely,

JayBee Anama