After three years of spending St. Patrick's Day at home, enjoying corned beef with all of the fixings, and a nice glass of Irish Cream (or two...or more...), we're hitting the road, celebrating with family. But first, it's off to work I go, slinging prescriptions at the pharmacy.
Speaking of...
Yesterday, I went to the Chicago Sports Spectacular (that's what they're calling what used to be the Chicago Sun-Times Spring Sports Card Show). It's the first time ever that I would go on a Friday. If you followed me on Twitter (and if you aren't, feel free to do so, I am
@bdj610
), you may have read some of my experiences at the show.
If you haven't, here is the summary:
Fridays are a bit quieter, it seems. The place was not extremely crowded, but there were a lot of people (and kids...KIDS...for those who don't believe KIDS don't collect anymore). Most of the vendors were there, greeting customers and each other. For some, this is the first time they've seen each other since the National (or at least the Fall Chicago Sports Spectacular...or whatever it was called).
Lots of vintage, as always, at this show. The big names were there selling modern stuff. And, of course, the same guy that sold me a Gypsy Queen set a couple of years back had what I was mainly looking for, a 2018 Topps Series 1 Master Set. After asking to see if he could knock the price down on the set (which he did), I bought the main set plus 5 Hobby inserts. I offered one of the four 2017 Hank Aaron Award Winner cards I had in my possession to thank him for the discount, and he picked one (Mike Trout...I still have the Harper, Bryant, and Cabrera cards).
I also bought myself a box of plastic sheets (need to put the cards in a binder somehow).
But the highlight of the night, and what got most people's attention on Twitter was this: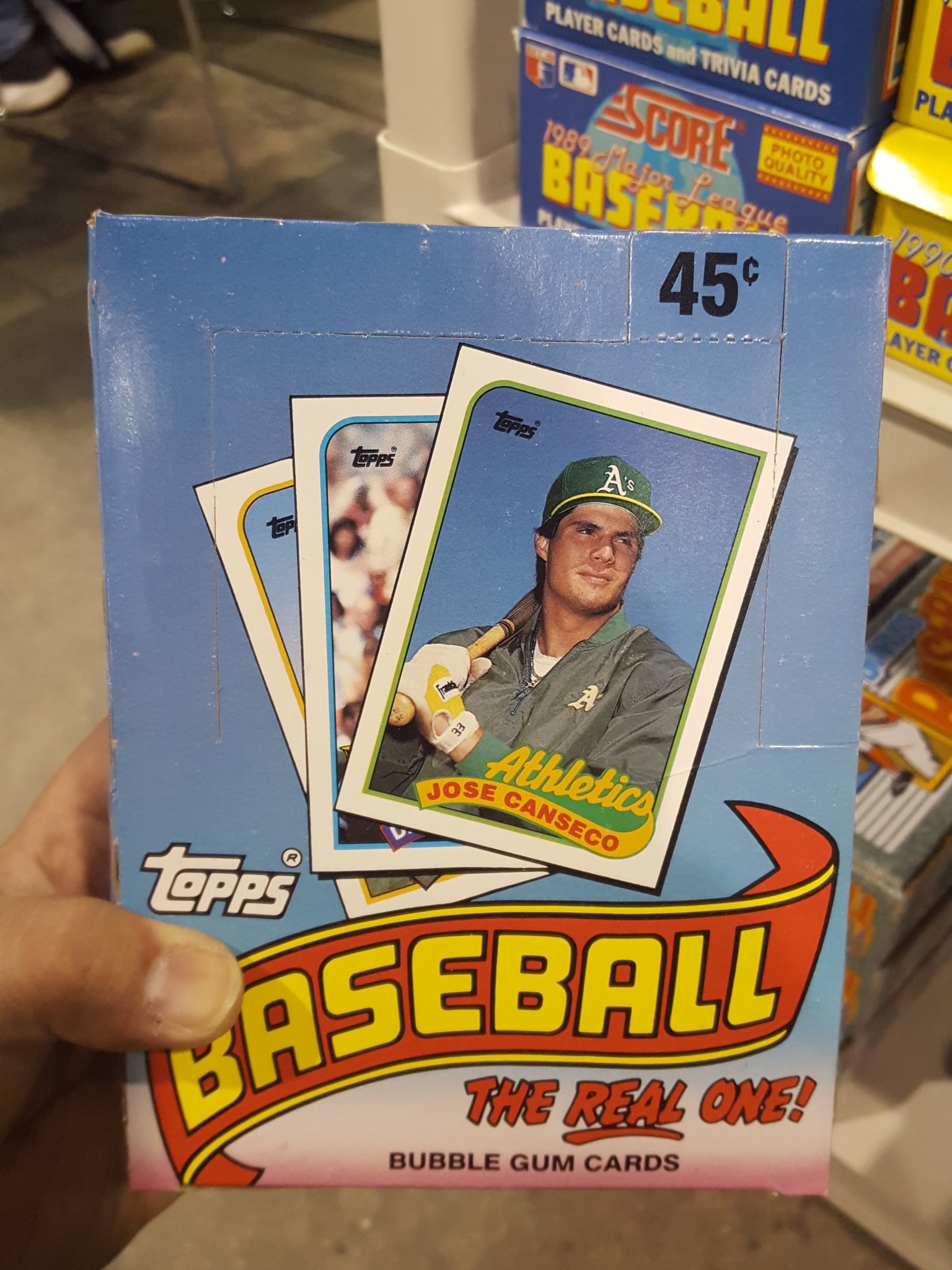 A 1989 Topps Hobby Box. 36 packs of cards and gum.
They were offering $5.00 for this box...or were they offering to give me $5.00 for the box...I don't know exactly what the guy said. And after mulling it over (I had to sit down to think about it), I decided to pass. As much as I would have loved to do it (and many people on Twitter said I should buy it), I couldn't think of a single thing to do with the cards once I opened them. I might regret this decision later, but you know what? I'm okay with it, and maybe at another show I'll bite.
After paying for my ticket, the seller handed me an envelope, containing a ticket for a free autograph from one of the signers at this evening's show. Based on the schedule, choices included Tom Browning (he of the perfect game in 1988), Ron Jaworski (QB from the Eagles/ESPN analyst), or someone else who had nothing to do on a Friday night. Now, I'm not an autograph guy, but I thought, why not? My ticket was for:
My first thought was, "
Who's this guy
??!
So Stan Bahnsen was a pitcher, played in the majors from 1966 through 1982, played for six teams, including the White Sox for four seasons, and was named to the Topps All-Star Rookie Team in 1968. Now, I had nothing for him to sign, so I thought, "Should I buy a baseball or look for a card? Maybe I should just have him sign the ticket."
But I never heard his name called the entire night I was at the show. I wondered why?
Oh, that's why. He rescheduled. But the policy was no returns, no exchanges. So now I have a dead ticket. So I have one request
Mr. Bahnsen (or someone who can pass this along to him), I'm sorry you couldn't make it out last night to the show. Have a great time today. I'll be at the Walgreens up the road from where you're going to be this today. After you're done signing, would you be able to make the trip north to my store? I'd like to meet you, and possibly redeem that autograph ticket.
On to other topics:
Today is St. Patrick's Day. It is the day that honors St. Patrick, who is the patron saint of Ireland. It also commemorates the arrival of Christianity to the Emerald Isle. In fact, it is said (thanks Wikipedia) that he used shamrocks to explain the Holy Trinity.
If anybody says, "Top of the morning to you," to you today, make sure to respond in kind, "And the rest of the day to yourself."
Public Service Announcement (as my wife just said that she found the Bailey's): As you celebrate St. Patrick's Day, please remember to celebrate responsibly.
Finally, a quick toast to everyone, Irish or just-for-the-day:
May the road rise up to meet you. May the wind be at your back.
May the Maury Show always be on your television (sorry, saw that this morning).
May your cards collections grow to unmeasurable heights in both volume and value.
May the quest for new cards be swift.
May the journey of life treat you well today and always.
And may a certain North Side baseball team win it all this year.
If you catch my drift.
Sláinte!
Sincerely,
JayBee Anama