When I first announced
that I wanted to simulate All-Star games using the rosters that I made up for the past 22 years, I wanted to wait until I able to fully utilize the sites that I was thinking of using before making the official announcement. I have found two perfectly good baseball simulation sites that I will be using when I announce my All-Star teams from the past. And the good news is that they are both FREE!!!

The first one is
Pennant Chase
. This website features full leagues, and you can either create your own players, or use players from MLB's history (all the way back to the 1880's if you wish). The only drawback is that it will only won't allow for you to scrap the DH in the simulations, which would have been very disadvantageous for me when trying to simulate early games when I didn't even pick a "Designated Hitter." Otherwise, it was easy to find the players I needed and I had no problems being able to pick and switch players from lineups when necessary.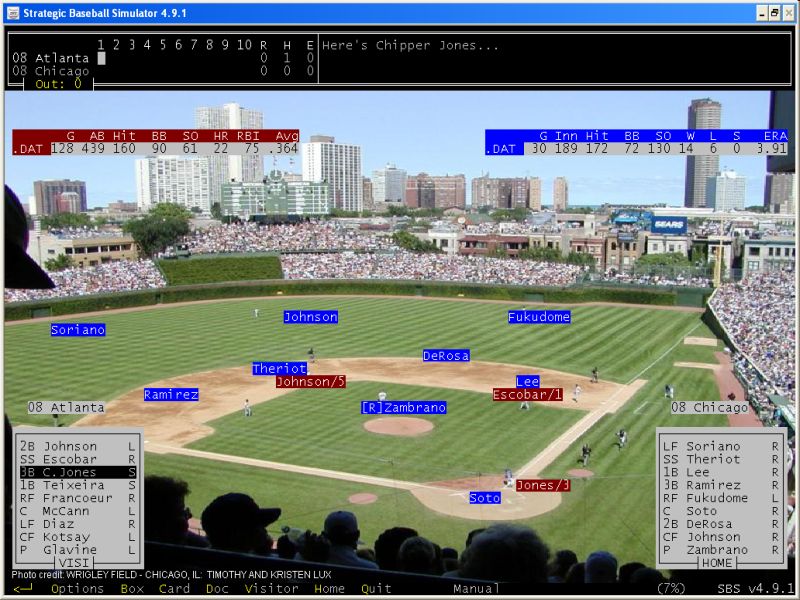 The second one, which I will probably be using more, is the
Strategic Baseball Simulator
, or SBS. I actually got an e-mail from Bryan Bollman, one of the site's contributors, and said that he reads this blog and suggested that I give the site a try. Granted, I had to download the programs onto my computer (something I was a bit leery on at first), but after I did, and added all the extra rosters from past years, I found it ridiculously easy to create rosters using Notepad by copying and pasting the necessary information from the different rosters onto my All-Star rosters. After playing a few simulations with this one, I was totally impressed with how smoothly the simulations run. Bryan, you will be adding the 2009 rosters soon right???
So there you have it. I will be using the SBS game when I run the simulations for my All-Star Game rosters. The games will be played this way:
There will be six games utilizing each of the six starting pitchers on each roster. Each of the position players will get a chance to start two games each. These first six games will play out like a regular season game.
The seventh game will be the All-Star game, where I will actually try to insert as many players as I can into the games, just like the actual managers. Of course, there is the all-told possibility that not every player will get in this last game, but we'll see how that goes.
Three of the first six games will utilize the designated hitter. The seventh game, will have a DH depending on if I chose one that year.
As best as I can, if I can, I will try to link game results online after All Star Roster post, with the simulated MVP. I will also try to compile stats for the six regular games.
So thank you very much for the tips. I now definitely look forward to the off-season. And you will too. My 1987 All-Star Game rosters will be up on Tuesday, October 20. Join me then for the roster discussion and the game results. (There will be pictures of Topps cards...I promise).
Sincerely,
JayBee Anama